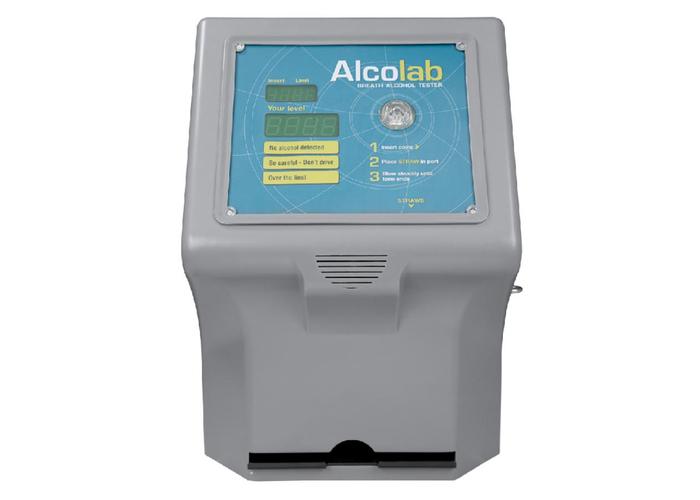 Alcolab
is a coin-operated breath alcohol tester designed for large work places, public use in bars, restaurants or anywhere alcohol is consumed.
It provides accuracy and a new user-friendly operation process to ensure users can conveniently self-administer their own alcohol tests with confidence.
With absolutely no inventory to maintain,
Alcolab
makes an ideal on-site test facility and a profitable addition to coin-operated vending businesses, bars or restaurants etc.
New design
Electrochemical sensor (Fuel cell)
Use anywhere

"A great money earner for bars, clubs etc."
Available for purchase or lease!!
---
SKU #: 79-006321
---
---
More Information
SPECIFICATIONS
Size:
32 cm x 46 cm x 20 cm
Weight:
5.5 kg
Sensor:
Electrochemical (fuel cell)
Specificity:
Alcohol only, no response to ketones or hydrocarbon
Ambient Temperature:
0°C to 50°C
Purge Cycle (Initial Test):
< 30 seconds
Breath Sample:
5 second moderate and continuous breath sample
Analysis Time:
< 10 seconds
Recycle (Recovery) Time:
25 seconds
BAC Readout Format:
%BAC
Range of Measurement:
0 to 450 mg% (0.000 to 0.45 %BAC)
Accuracy:
± 5% @ 100 mg% (±0.005 @ 0.10 %BAC)
Display:
3 digit LED with illuminated display
Power:
110v or 220v AC
Mouthpiece:
Standard Drinking Straw
Calibration:
Alcohol/Water Simulator