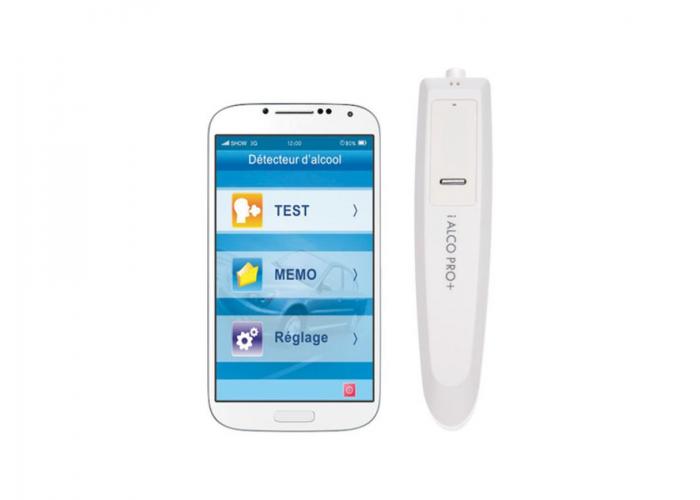 The i ALCO PRO + is the world's first breathalyzer that you can connect to your Android wirelessly via Bluetooth connection.
The i ALCO PRO + breathalyzer and your Android cell phone are the perfect match/ You will be able to estimate your blood alcohol concentration and get your result in a few seconds.
• Nice graphics help you understand and use your device properly.
• The application gives you your sober estimation time to zero alcohol or below limit level.
• It saves your last results and gives you the possibility to send your result via SMS to another smartphone (great for parents and companies)
It is simply the best smartphone breathalyzer in the world!
It offers much more
---
SKU #: APC 001
---
More Information
• Electrochemical sensor (Fuel Cell Sensor). Best technology in the market used by police force
• Compatible with Android version 4.3 and below.
• Compatible with Android smartphones: Samsung, LG, HTC, Motorola, Sony-Ericsson, Lenovo, Galaxy S3 and S4 running version 4.3 and below.
• Blowing time, only 6 seconds
• Blowing flow interrupt detection insuring good breath sample
• Last tests memory
• Possibility to send your result via SMS to another smartphone
• Sober estimation feature. The application will tell you how long it will take to have a blood alcohol content beyond limit level or zero alcohol content
• Set up device which adjusts legal limit according to your province or country
• Personalization of your device (name and password)
• Recalibration reminder which indicates you the exact time to recalibrate your unit
• Tests counter
• Display range: 0.000-0.400% BAC
• Accuracy: +/- 0.005% at 0.05%
• 5 mouthpieces included, wrapped individually
• Power supply: 1 AAA, 1.5V alkaline battery
• Low battery indicator
• Selective measure units : %, %o, mg/L