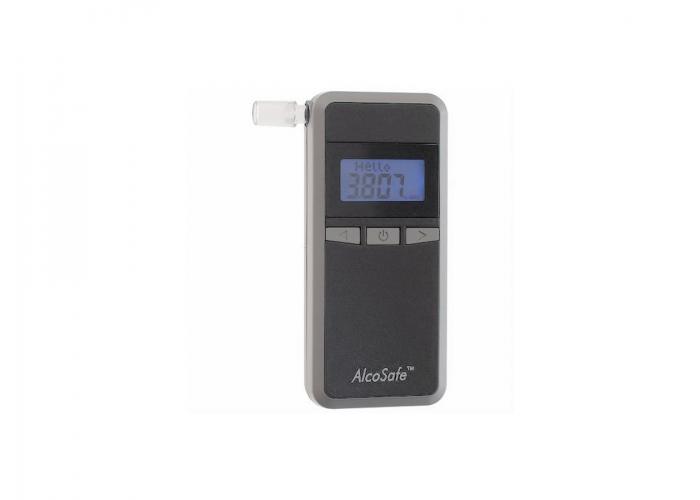 Portable Digital Breathalyser
Our most popular personal device!!!
·Professional Grade Breathalyser with 64 Test Memory
·DOT Accuracy Certified
·Advanced Flow Detection Technology
·Professional Level Detection Range
The AlcoSafe™ S4 is a very simple to use, hand held type of breath tester with a four digit LCD display. It has improved performance over many current breathalyser models on the market. Benchmark testing of this exciting new breathalyser has produced better performance, consistency and long term stability thanks to the cutting edge internal features. A completely new developed new 'S' series sensor, ensures much lower 'drift' over time than other replaceable sensor breathalyser models on the market, meaning that your AlcoSafe™S4 breathalyser stays accurate. A breathalyser sensor cleaning system quickly removes and eradicates any alcohol residue between tests, ensuring a reliable, accurate result each time.
The latest version of breathalyzers S4 series are equipped with an unique processor Xense®, so the results of measurements made in these devices are now not only comparable, or even in most cases, more accurate than the electrochemical breathalyzers.
AlcoSafe™ S4 has been upgraded with new technologies (EVT™& DECT™) to improve it's breath capture accuracy making this model ideal for no tolerance screening. DECT™(Direct Environmental Compensation Technology) enhances the stability and accuracy of our breathalysers under dynamic environment conditions (eg. variance in temperature and humidity) ) to avoid false positive reading. DECT™ also effectively maintains the consistency of reading over time, even after long time of inactivity of the testers.
EVT™(Electronic Valve Flow Detection Technology) automates the sensor to start collecting test sample only when a certain air pressure point produced by the blowing action is reached. This enhanced feature borrows the same idea from fuel cell breathalysers, for the purpose to capture the test sample from deep lung for accurate measuring.
The tester is equipped with an advance temperature sensor for constantly displays the ambient temperature during use to help you operate the unit during its optimal temperature range of -10° to 40°C.
The AlcoSafe® S4 tester is perfect instrument for personal, professional and industrial use. It comes with 5 mouthpieces, batteries and a soft protective carry pouch.
FEATURES
High quality and long life sensor "S" series
Xense® processor
High accuracy & precision
4 digit LCD display
Electronic Valve Flow Detection Technology EVT™
Direct Environmental Compensation Technology DECT™
Selectable display units
One touch menu operation
Error Sensing Technology
Cumulative test counter
64 tests memory recall
Temperature display
Auto Power Off
Low Battery Indicator
---
SKU #: KX6000S4
---
---
More Information
Design patented.

Certification: DOT(OEM), CE.

Premium accuracy, suitable for higher end consumer use / law enforcement screening purposes.

4 digit LCD display (3 digit after decimal point).

BAC detection range: 0.000 ~ 4.000 %o / 0.000 ~ 2.000 mg/L / 0.000 - 0.400% BAC.

Accuracy +/- 0.07%oBAC or +/- 0.035mg/L or +/- 0.007%BAC at calibration point.

Increment point: 0.001%o / 0.001mg/L / 0.001% BAC.

On-screen menu, DOT-matrix display with message panel.

Cumulative test counter up to 999 times.

Test memory: 64 records.

DECT tech: maintain stability of accuracy in dynamic condition (temp, humidity, storage time).

EVT tech: auto monitor air in-flow, ensure only deep lung sample is obtained for maximum accuracy.

Sensor Auto-cleansing.

Power: 2 AA Alkaline battery.

Dimension: 114 x 51 x 18 mm.

Weight: 60g.